Sockaid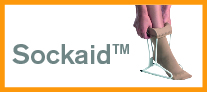 Sockaid is designed to take away the struggle of fitting socks, stockings and compression hosiery.
It was developed by two patients who had experienced at firsthand how difficult it was to bend and stretch to put on socks or hosiery after surgery. They came up with a stylish, plasticised wire frame solution and named it Sockaid.
Sockaid is simple for your patients to use and is available on FP10 prescription.